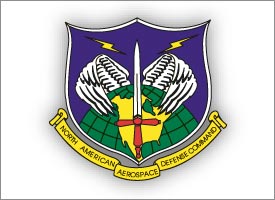 NORAD Tracks Santa Media Center
NORAD Tracks Santa Logo
Until 2011, one could download the NORAD Tracks Santa logo [jpg] for personal use and send it around to one's friends, to include it on one's blog, one's social networking page or turn it into one's desktop wallpaper or one's screensaver.
Starting in December 2011, there was no longer a NORAD Tracks Santa logo available for download after NORAD obtained a Service Mark on their logo on September 13, 2010. [1]
Main article: NORAD Tracks Santa - Downloads
Embed NORAD Tracks Santa Tracking Map
To embed the NTS Tracking Map, copy and paste the following embed code into your site (changing the width/height as desired):
<iframe src="http://www.noradsanta.org/map.html?embed=true" width="600" height="450" frameborder="0" scrolling="no"></iframe>
NORAD Public Affairs and NORAD Tracks Santa E-mail Address
Media should use the email address nnc.pa.nts.omb@northcom.mil to:
1. Request the latest NORAD Tracks Santa press releases
2. Request pre-recorded interviews (prior to Dec. 23rd)
3. To schedule a telephone interview during the "live" tracking of Santa on Dec. 24th
4. To request a visit to the NORAD Tracks Santa operations center at Peterson AFB, Colorado on Dec. 24th
Broadcasters interested in arranging live video interviews, downloading video, audio, B-roll, historical and/or "Santa cam" files should contact the Digital Video and Imagery Distribution System (DVIDS) 24-hour media hotline at (678) 421-6612 or (877) DVIDS-247. Requests can also be submitted by going to www.dvidshub.net and clicking on the media request link. Please be sure to adhere to the broadcasting instructions.
Along with the above information, the NORAD Public Affairs Team is always ready to assist reporters with additional information concerning the program.
NORAD Public Affairs and NORAD Tracks Santa Mailing Address, Telephone, and FAX
Please contact NORAD Public Affairs with your specific requests or questions at:

HQ NORAD Public Affairs Office
250 Vandenberg Street, Suite B016
Peterson AFB, CO 80914
Telephone: (719) 554-6889
Fax: (719) 554-3165
Email: nnc.pa.nts.omb@northcom.mil
References
External links