Biography – Lt.Col. Douglas "Doug" Martin, CD
Lt.Col. Martin joined the Canadian Armed Forces in 1982, received basic training in Chilliwack, B.C. and was commissioned in the Royal Canadian Artillery the following summer in Gagetown, N.B.
From 1984 to 1987, he served in West Germany with the First Regiment, Royal Canadian Horse Artillery as part of Canada's contribution to NATO during the Cold War.
In 1987 he left the Artillery to become a Public Affairs officer in Ottawa. During his four-year posting in the Canadian Nation's Capital, he was the editor of two annual Defence Series books and associate editor of Sentinel, the magazine of the Canadian Forces. In 1988, he received formal Public Affairs training at Fort Benjamin Harrison in Indianapolis, Indiana, conducted by the United States Defense Information School.
From 1991 to 1994, he was posted to the Department of National Defence Public Affairs Atlantic regional office in Halifax. During this time he served a six-month peacekeeping tour of duty in 1992 with the United Nations in the former Yugoslavia under the command of Major-General Lewis MacKenzie and a six-week tour in 1994 off the coast of Bosnia-Herzegovina in the Adriatic Sea aboard the destroyer HMCS Iroquois.
In the summer of 1994, he was appointed Director Army Public Affairs for Land Force Western Area which encompasses all army units from Marathon, Ont. to Vancouver Island. During this posting he completed a second tour in the Former Yugoslavia as director of Public Affairs for the Canadian Contingent. He also directed media operations during the 1997 Flood of the Century in southern Manitoba, and directed Public Affairs operations at the 1999 Pan Am Games.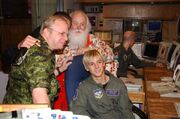 In 2001, exactly nine weeks before September 11th, he arrived in Colorado Springs, Colorado to become Deputy Director of NORAD Public Affairs. Highlights included witnessing the attacks from inside Cheyenne Mountain on 9/11, leading NORAD Public Affairs activities during the 2002 Winter Olympics in Salt Lake City, and at the G-8 Summit in Georgia in June 2004 and running NORAD's Santa Tracking Program — a story in itself at the article "Chief Santa Trackers of Renown – Lt.Col. Douglas 'Doug' Martin".
In 2006, he returned to Canada to take a year-long French course, then was posted to the Canadian Embassy in Washington, DC as the Canadian Forces Public Affairs Attaché.
Lt.Col. Martin is married to his wife of 27 years, Alexandra, and they have one daughter, Mary Veronica who is a student at the University of Ottawa.
Lt.Col. Martin is an avid runner, loves skating, but gets injured every time he plays hockey.
External Links